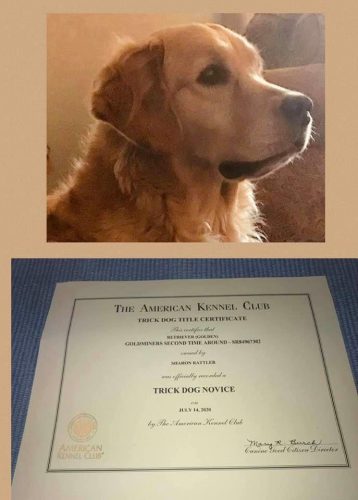 SPIRIT GOT HER TRICK NOVICE TITLE
Meet PCH's newest therapy dog Dazzle!
She did it she passed her PCH test today and actually got to see a few kids in the oncology clinic. Her mom is GOLDMINERS I'M COMING HOME  SAVANNAH 
---
GOLDMINERS MISS RUBY HEARTS OF THE WEST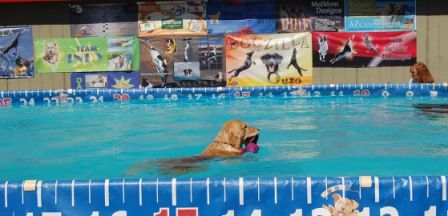 BRINGING IT BACK TO DON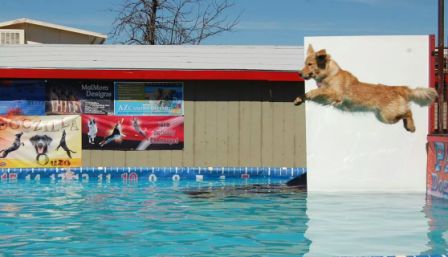 GOLDMINERS HEARTS OF THE WEST DJ, CCA, BIG WAVE JUNIOR DIVISION DOCK DOG WORLD SHE JUST GOT MARCH 14,2015
MISS RUBY GOT HER AKC DOCK DIVING TITLE IN JUNIORS DIVISION.
HUNTERS DIVING IN CAVECREEK AZ. ON 11/2 ,11/3 2014
GOLDMINERS HEARTS OF THE WEST DJ,CCA,BIG WAVE JUNIOR TITLE
---
GOLDMINERSHEART OF THE WEST DJ ,CCA & DOCK DOG WORLD BIG WAVE JUNIOR DIVISON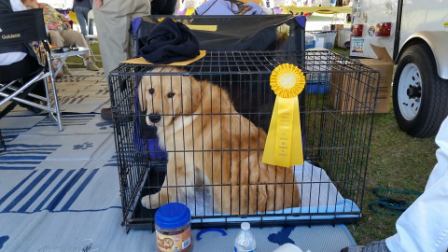 YES SHE IS AT A DOG SHOW FEB 2015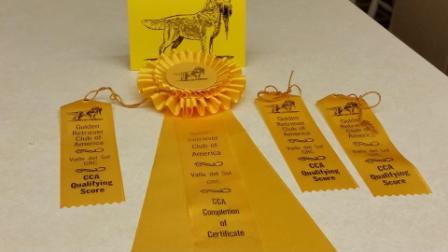 MISS RUBY CCA RIBBONS FEB 26,2015
1) What is the original intent of the CCA?
Twofold: (a) to provide a NON-COMPETITIVE area of participation in conformation where dogs are assessed against the Breed Standard rather than merely against other dogs present and (b) to give owners written reports as to the evaluators' assessments which will provide information not available in the show ring.
2) How does the CCA compare to other basic non-competitive, entry level tests offered to Golden Retrievers?
Both the Hunt Test and WC programs require an average passing score of 7 points in all categories and the number of attempts is not limited.
The CCA program is also on a point scale requiring the dog to score a minimum of 75 or higher out of 100 possible points, broken down into ten categories. A non-competitive CCA event tests the individual dog on the physical conformation and temperament qualities as set forth in the Breed Standard. There is a limit on the number of attempts that can be made. It also has a mandatory pass for temperament and sets a minimum age of 18 months. While the conformation quality of a retriever MAY improve with maturity and conditioning, the basic structure changes very little.
The CCA, WC, and Hunting Test programs are similar in that they all reward very good to excellent representatives of the breed by comparison to an impartial criteria without bias or dog-to-dog competition, and they all test the desired physical and/or mental attributes of a sound hunting companion.